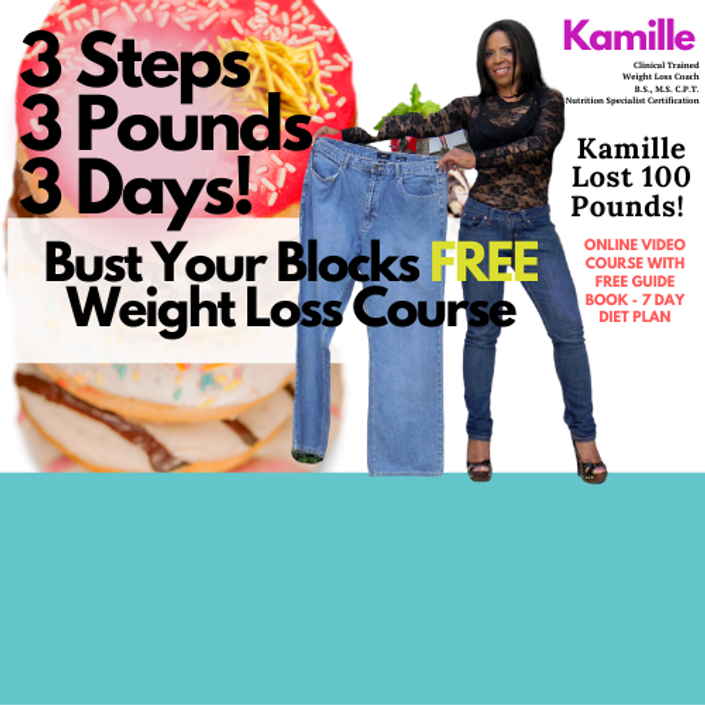 Bust Your Blocks Free Weight Loss Course
BUST YOUR BLOCKS WEIGHT LOSS PROGRAM PRESENTS...
THE FREE "WHY CAN'T I LOSE WEIGHT?!" BLOCKBUSTER COURSE
Learn To Bust Through 3 Main Psychological & Physical Blocks To Help You Lose Weight, Lower Your Blood Sugar, Have More Energy, And Make Your Doctor Proud!
The Long Term BENEFITS of This Course:
Balance Your Hormones
Enjoy Food
Burn Fat Not Muscle
Speed Up Your Metabolism
Learn What Foods Help YOUR Body
Reduce Medications
Have More Energy
Tighten Your Skin
Lose Inches
Fit In Your Jeans
Release Guilt
Dump Starvation
Increase Your Faith
Feel Empowered
Learn The Truth
Increase Confidence
Improved Wellbeing
Your Mind Begins To Transform
Have you struggled with your weight for years and you just can't seem to lose the weight and if you do, it's difficult to keep it off? Have you been diagnosed with Pre-Diabetes or Type 2 Diabetes and you want to know how to improve your health?
Now that we are slowly coming out of the first world Pandemic, many of us are left with excess weight on top of the weight that's so hard to lose. You see, I totally understand...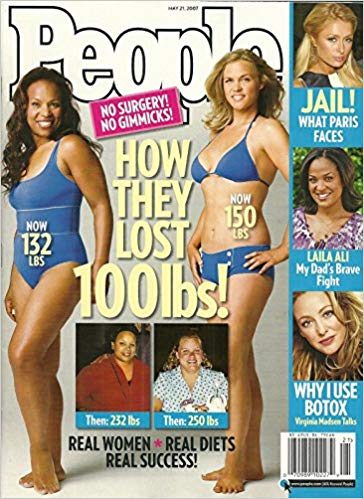 LOSING 100 POUNDS
For years, I struggled with my weight. I would start and stop a diet in a heartbeat. Every time I started and stopped a diet, I would gain back the weight I lost and more until I reached a staggering 240 pounds!
Almost immediately after releasing a HUGE BLOCK, I was connected with an amazing celebrity trainer and life coach. She helped me lose over 100 Pounds! A few months later, I landed on the cover of People Magazine, interviewed by Robin Roberts of Good Morning America, highlighted on Entertainment Tonight, and interviewed on numerous radio shows for this accomplishment simply by releasing ONE BIG BLOCK!!
But in this FREE COURSE, I want to share with you 3 HUGE BLOCKS that you will be surprised about and maybe something you've NEVER HEARD BEFORE.
I'm not just saying this so you sign up for my course.
My PASSION is to enlighten people on the REAL REASONS women are having trouble losing weight. You won't hear this on Oprah, you won't hear this on Dr. Oz, Dr. Axe, or Dr. "Keto" Berg. These doctors have great information to share, however, the ideas and lessons I will share with you, they don't talk about and if they do, not to the degree that is completely understandable. If you struggle with weight loss, you will see a difference from day 1. If you are a type 2 diabetic, you will see an improvement in your blood sugar by day 2 and losing weight by day 3.
There are many weight loss blocks, but there are 3 major ones that if you simply apply the strategies, you will see a difference and you will experience amazing weight loss and better health like I did.
Hi, I'm Kamille and since losing weight, I've been working with physicians helping their patients do the same. I specialize in working with adults who have a hard time losing weight often due to medical problems such as insulin resistance, hypothyroidism, type 2 diabetes, PCOS, and other metabolic conditions.
HERE'S HOW IT WORKS!
The Bust Your Blocks Free 3-Step Weight Loss Course
3 Steps To Lose 5, 10, 15 pounds or more...
1. Sign Up For The Course
2. Watch 3 Video Lessons
3. Complete The Easy Action Steps
Here's What You Get:
A FREE WEIGHT LOSS GUIDE BOOK explaining the 3 Steps along with 3 Easy Assignments and Valuable Resources And 7-Day Meal Plan!
This FREE Course Alone Can Easily Sell For $197.00
But It is Yours Today For FREE!
All I ask are 3 Things:
1. Don't Rush Through The Course. The steps are given in a particular order for a reason, so you don't want to just ahead.
2. Complete ALL the Assignments to the best of your ability.
3. Be teachable and have an open mind.
4. Join the FREE Closed Facebook Group for support and discussion and extra guidance (optional of course) and FREE!
That's It!
Not sure IF YOU WANT TO START?...here are a few of my reviews!
FIVE STAR REVIEWS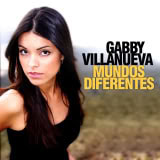 AVATAR RECORDING ARTIST

"Avatar Records referred one of our recording artists to Kamille for training and conditioning. Obviously, in the music business, you need your artists to be in great shape. Kamille worked extremely hard to get our artist in shape in record time. We could not be more pleased with the results and would happily refer Kamille to any potential clients who need help getting in shape.

Thank you very much, Kamille!!!"


Hello Kamille,
I am so excited about my new life. It's wonderful to feel fit while traveling. It's nice not to have extra body hanging around getting in the way. IT'S WONDERFUL and I am so grateful to you for sharing that day on Facebook. It's a miracle the timing and everything. I AM TELLING YOU THAT I LOVE YOU SO MUCH FOR WHAT YOU HAVE SHARED WITH ME> YOU MAKE IT INTO MY PRAYERS, AS I AM SO GRATEFUL FOR YOUR GENEROSITY IN SHARING YOUR EXPERIENCE>
~Fatimah, Saudi Arabia

Dear Kamille,
I was 35 pounds overweight and feeling the hopelessness beginning to creep back over me. Even though I knew what to do, no matter what - I couldn't get it off. Yesterday morning I went through my closet to try on my jeans that have been hanging there for over two years. To my astonishment, most of them didn't fit because they were TOO BIG! Oh, my gosh, I couldn't believe it! I've been waiting for the time and praying for the solution that would enable me to lose weight, regain my confidence and joy. The extra weight had taken a part of myself away from me, but it's all coming back now! I'm so grateful for your expertise and compassionate support in coaching me. So, thank you again and forever for this marvelous protocol - it's truly changing my LIFE!
With warmest regards,
~Eliyah, Pebble Beach, California

"Kamille is a wonderful nutritionist and counselor. Besides having a common-sense approach to dieting, Kamille understands the mental and emotional needs of her clients. Since she has struggled with weight herself, Kamille looks at the whole person and not just his/her number on a scale. I would highly recommend Kamille!"
P.P.

"One can't go into this with the idea this is a diet. It's a lifestyle change. Find the healthy foods you enjoy, but never deprive yourself. In life, it's all about moderation."

F. H.

"During the holidays with 10 family members visiting all over the house, we ate out a lot, but I choose wisely and at each meal, I thought what foods would help me and would choose the lesser of two evils. I lost 2 pounds and I am thankful for that. I never deprived myself and ate in moderation."
A.M.

I love the personalized assistance and care offered by Kamille. She placed me on a nutrition plan individualized just for me. It is a manageable plan and most importantly sets one up for living a changed lifestyle and not just enduring a temporary fad diet. Kamille is an excellent coach who is friendly, knowledgeable, helpful, and caring. Her assistance in addition to the weight loss program she placed me on, in and of itself, sets it apart from the rest. I look forward to continuing this lifestyle even after I've reached my goal.
G.C.

I've held over 10K consultations and I've worked with some of the top physicians in the industry and I'm always learning new things when it comes to health and wellness I feel is very important in this time in history.
Globally, we are going through the most difficult times.
Many people are out of work, they've lost their businesses, they lost loved ones and we have to help one another which is why I want to provide this course for FREE for anyone who wants to get a jump start to life, get healthy, have more energy, and get support.
I wouldn't be where I am today if the people in my life had not helped me as well.
It's time for a NEW BEGINING and you've come to the right place!
SIGN UP TODAY!
I Will SEE YOU ON THE OTHER SIDE! :-)

Disclaimer:
Kamille is a Nutrition Specialist certified, holds a B.A. and M.S. Degree in Education and Behavior Science, and is not a licensed nutritionist, psychologist, or psychiatrist. This free COURSE is for general informational purposes only. It should not be used to self-diagnose and it is not a substitute for a medical exam, diagnosis, and prescription or recommendation. It does not create a client relationship between Kamille Dawn Tirzah and you. You should not make any change in your health regime or diet before consulting a physician and obtaining a medical exam, diagnosis, and recommendation. Always seek the advice of a physician or other qualified health provider with any questions you may have regarding a medical condition. Kamille Dawn Tirzah, and Kamille Tirzah Wellness or kamilletirzahwellness.com are not responsible for any advice, course of treatment, diagnosis, or any other information, services, or product you obtain through this video. Any information given in regards to nutrition is government nutrition recommendations and information based on FDA, the American Heart Association, the American Diabetes Association, and the RDA - The Recommended Dietary Allowance (RDA). Calories are based on the average daily dietary intake level that is sufficient to meet the nutrient requirement of nearly all (97 to 98 percent) healthy individuals in a particular gender and life stage group (life stage considers age and, when applicable, pregnancy or lactation). Kamille Dawn Tirzah is not liable or responsible for any advice, course of treatment, diagnosis, or any other information, services, or product you obtain through this video or site.
Your Instructor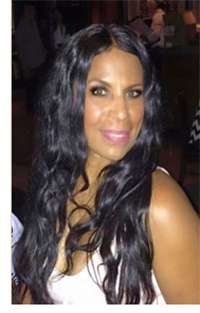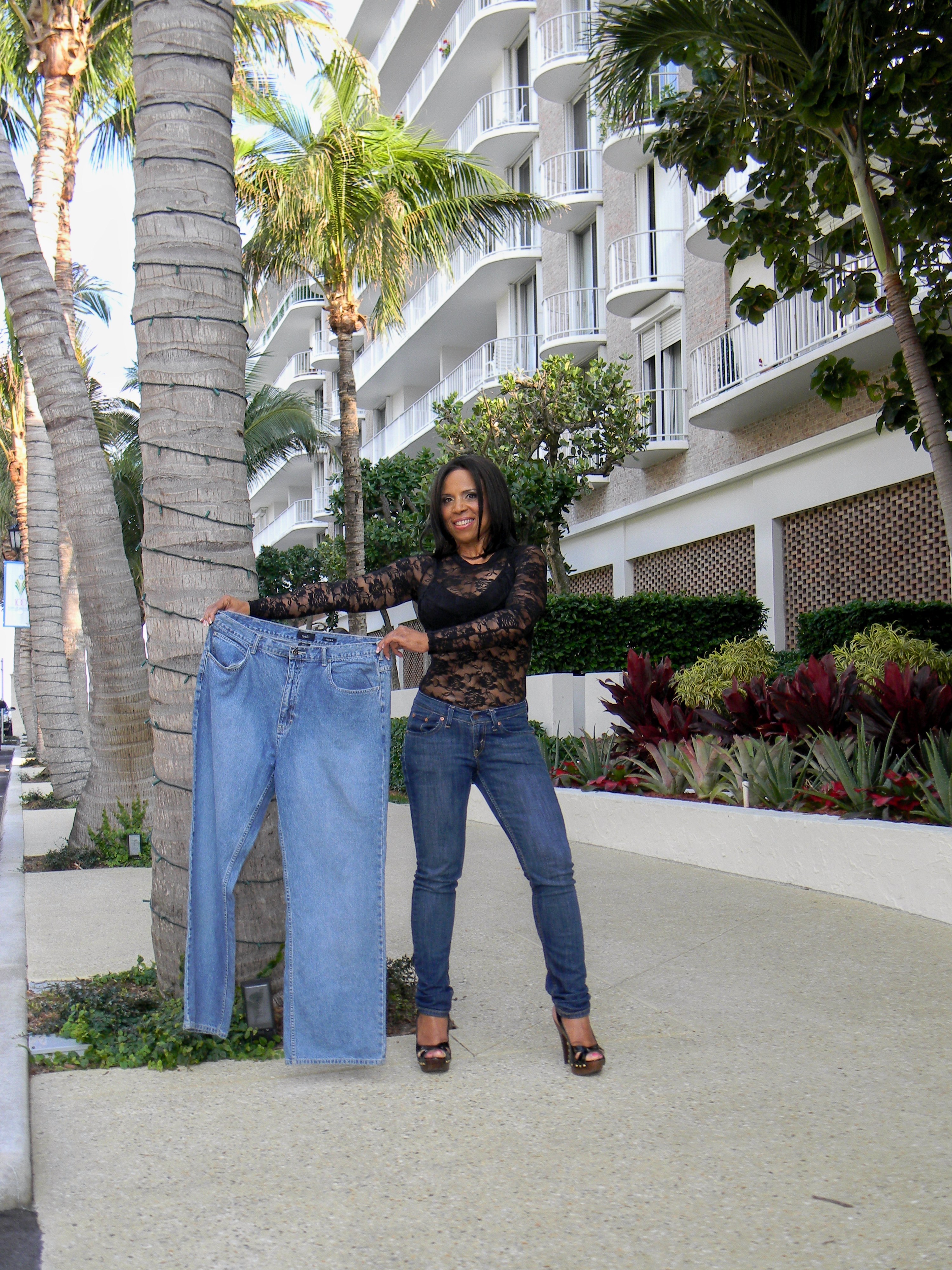 Kamille Dawn Tirzah, once toppling the scales at over 232 pounds, not only lost the weight, but was featured on the cover of People Magazine, interviewed by Robin Roberts on The Good Morning America Show, and highlighted on Entertainment Tonight in May of 2007. She has a BA, MS degree, and certified in personal training, weight loss coaching, and nutrition. She is the author of Fat Chick To Cover Model on Amazon and her first online digital coaching program on click-bank titled, Lean Body Principles: Lose Fat Weight Fast! Secrets Your Doctor Didn't Have Time To Learn.
Helping people reach their health, weight, and fitness goals is her passion and she demonstrates this through her work as a Weight Loss Coach and Nutrition Specialist for a team of doctors in South Florida and has coached over 10,000 people!
From kids to adults, doctors to celebrities, Kamille has helped thousands of people lose weight, get fit, and change their lives for the better.



Course Curriculum
INTRODUCTION
Available in days
days after you enroll
STEP 1
Available in days
days after you enroll
STEP 2
Available in days
days after you enroll
Frequently Asked Questions
When does the course start and finish?
The course starts now. It is a completely self-paced online course - you decide when you start and when you finish.
How long do I have access to the course?
After enrolling, you have unlimited access to this course for as long as it is published. You will be notified if this free course will discontinue.
What if I am unhappy with the course?
If you think the Bust Your Blocks FREE WEIGHT LOSS COURSE was not helpful, please send an email to the instructor with your comments so that improvements can be made.
I'm I allowed to download the videos?
For privacy and due to the nature of the information, only the guide book is downloadable.